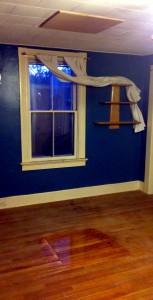 This weekend, Susanna and I made the decision that we didn't want to have Will's ceiling replaced. The renovations on the first floor are enough without having to worry about the second floor.
Today I took a piece of plywood to patch the ceiling. I routed a nice edge on the wood, and covered the opening. Once painted it should match the ceiling and not stand out so much. It is not fancy, but should be good enough. Heck, we lived with a chimney in that room for years – a patched (and painted) ceiling will be an improvement. And anyway, neither Susanna nor I have to hang out in that room and Will was fine moving back into his room sooner.
I took some oak flooring that I had inherited from my dad when he moved from St. Louis to Columbia. It had been sitting in his basement for I'm sure many years and it moved to our garage to collect dust. While the flooring isn't a perfect match, it is pretty close. Again, it is good enough. If it bothers Will, he can cover it with an area rug. And it is a drastic improvement.
It was a huge relief to decide to simplify the second floor project. Now I can focus on working on the laundry room and mud room. That should keep me occupied for a while. But not too long. We are planning on hosting a party on New Year's Eve, so I'll have to have the rooms done by then.