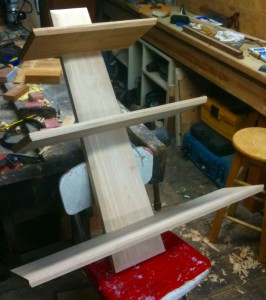 Ok, so it is taking me longer than a weekend to build the two.  But I haven't been only working on them (I am of course still doing storm windows and spending time moving my 200 bdft of cherry into the workshop loft (and rearranging the loft).
I am building two identical shelves.  One for Ben, and one for Will.  Both are made from Birch.  I have the pieces milled and cut to size for both shelve and backs.  This past weekend I routed the dadoes for the shelves on Ben's shelves and tonight I finished cutting the back to shape and doing the edge profile on the back.  The back is pretty thick, almost a full 2″ thick.  The shelves are milled just a bit thicker than 3/4″.  I'm copying the design from the Wood Whisperer weekend shelves.
Tomorrow I'll finish sanding the parts, and glue up the shelves.  The bottom two shelves are glued (and reinforced from the back with screws).  The top shelf is just set into the dado (The screws to hang the shelf go though the dado behind the top shelf.   Then a coat of shellac (or maybe two to give the wood a little more color) and finally I'll attempt to spray a water based pre cat varnish (I picked up Agualente in satin by ML Campbell and will use an Earlex HVLP system – my first attempt to spray a finish on one of my woodworking projects).
Overall the project is turning out pretty nice.  Hopefully I won't completely screw it up with the spray finish…  The dadoes fit pretty well.  I didn't have the proper router bit (a top bearing pattern bit) so had to sneak up on the size.  The bottom dado was a little loose, but that was fixed by gluing a hand plane shaving into the dado.  I ordered the proper router bit for the second shelf.