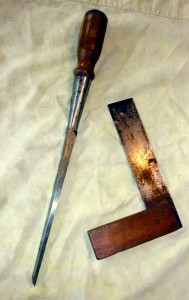 Winter is pushing into March with a snowfall this afternoon. That on top of the frozen snow from the past month's snow. We are starting to get a little stir crazy being stuck in the house. It even seems that Minecraft isn't exciting Will as much today as usual.
Instead of just sitting around, we decided to head out to the flea market this morning. The boys each picked up a pocket knife (to keep in the workshop).
I found a small (6″) square for $1 and a large mortise chisel for $10. Both seemed like a good deal. The chisel was pretty sharp, and only took a few minutes on the water stones to get a good working edge. The square cleaned up to a nice patina. I have no idea if it is square. If it is, I will add it to my usable tools. If not close enough to easily correct, I'll have to add it to the wall decoration (in the workshop – for no reason I can understand, Susanna doesn't allow me to decorate the dining room with antique tools).