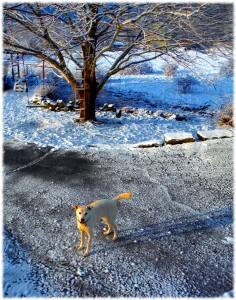 I love waking up on spring mornings. It is wonderful to go out early in the morning and enjoy the wonderful smells of spring and snow???? WTF??? It is supposed to be spring. The vernal equinox was 9 days ago. Where is all this snow coming from?
By now, the only thing that still loves the snow is Targa. Even the boys are sick of the snow.I think Targa would like it to snow year round.  Stupid dog.
Susanna's parents are visiting from Sweden this week – they say this is their first taste of winter this year. Welcome to New England.
At least it warmed up today. Enough for a nice walk in the morning, and a fire in the fire pit by the patio. By mid-afternoon it had warmed up enough to start to feel like mid-March. Warm for all of us to sit at the patio without winter coats on and enjoy the afternoon sun.