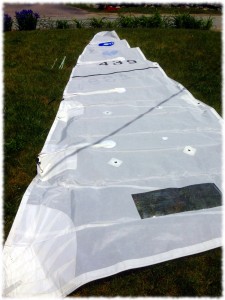 The new mainsail for the O'day arrived by FedEx today. It has been nearly 9 weeks since I ordered the sail from Peak Sails North America.
The sails look nice, but of course I'm not an expert on sails – I used the rags that came with the boat for the past two seasons.
How do I rate the purchase experience?
1. Price: Peak Sails couldn't be beat for price – which was the primary reason for choosing them.
2. Quality: The sails seem pretty nice – I'd rate them a 4 out of 5 on quality. The insignia isn't perfect, but it is a drastic improvement from the existing mainsail. I'll have to see how well it holds up and how well it sails.
3. Processing Time: Not the best, but it is what I expected. I would rate it a 2 out of 5. If I needed the sails in a hurry I wouldn't use them. But I didn't need them in a hurry. I think the best bet is to order new sails at the end of the season to have them ready for the next season.
4. Customer Service: No problems with customer service. I would rate it a 4 out of 5. The time frame I was initially given was under 4 weeks to deliver, but I also understand I had a small order and picked a discount sailmaker. However, whenever I called and to get an update on the sail, Chris Stevens (Peak Sails customer service) was always pleasant to talk to and helpful on the status of my order. He didn't always answer the phone, and I didn't try leaving a message – however it wasn't hard to get in touch with him. I only had to call two or three times each time to get him to pick up.
Now to get the boat cleaned up this weekend, and put it in the water Father's Day weekend.