This weekend I (quite contrary to my ADHD desires) didn't start any major projects and instead worked on finishing up some smaller ones. I know. Crazy. Finish projects and not start any. What fun is that? But it keeps the wife happy, so that is worth something.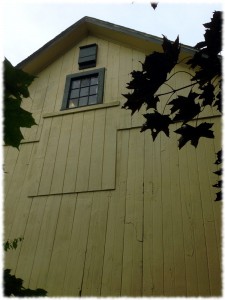 The boys and I added two more shelves to the lumber rack. We brought all the lumber up that was stored under the barn (and wasn't already on the lumber rack under the barn). That allowed me to clean out a little under the workshop and get the trailer pushed all the way back in.
It was amazing to watch Will and Ben work together to bring up the lumber from under the workshop. Or rather, fail to work together, so each had to drag boards individually. But, I guess that is what brothers are for. Of course I didn't take any pictures of the upgrades/cleaning so you will just have to take my word that I actually did the project. Susanna even helped by labeling the now-somewhat-organized stacks of lumber. In English and Swedish.
Last week Will and his friend, Morgan, painted the two bat houses that they had made with me a couple of weeks ago. Morgan didn't have any exterior paint at her house, so both bat houses were painted with the green trim paint from our house and barn. Yesterday Will and I decided to hang his bat house. Will even helped me drag out the tall ladder and set it up. The bat house is high up on the south face of the garage (above the chicken coop). Now all we can do is wait and see if we get tenants.
Today I decided to make a quick spice rack. We have been keeping our spices on the bottom shelf of one of the kitchen cabinets next to the stove. It was a pain to find spices – they were a disorganized mess and one had to dig around lifting up bottles to find the desired spices. I had a few pieces of good plywood lying around, and all we needed was some steps in the cabinet to allow us to find the spices in the back. It took about an hour to cut the pieces to size and mill some sapele for the front edge of the rack. I couldn't find my wood glue to attach the front edging, so I attached the front with a pair of screws. Anyway, the steps will be hidden underneath the spice bottles when it is filled in. The only reason I chose sapele was that I had two smaller pieces in the workshop and I didn't feel like going out and pulling out something less expensive. And sapele isn't really that expensive anyway.
And tonight, instead of cleaning up the workshop, I decided to write in my blog and push cleaning off for another day.