Well.  I'm almost finished with a couple of projects.  Hopefully tomorrow I can finish at least two of them, and keep working towards my goal this year of finishing projects (instead of just starting them and almost finishing them).
The piano bench is in the final finishing stages.  I made it out of red oak, and am trying to stain it dark to more closely match the piano.  I know, if I wanted dark, I should have started with a darker wood (walnut or cherry).  But nothing beats making projects from lumber already in the lumber pile.  I do have cherry, but it needs another year or so to dry.  Maybe sapele.  Of course I could always build another one – but that will need to wait until some other house projects are done.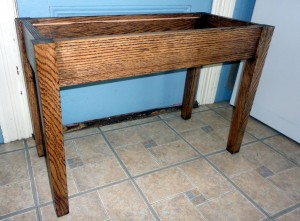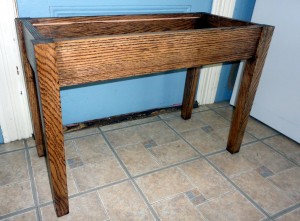 I'm not too happy with how the staining turned out.  The test piece of wood turned out darker.  I applied a coat of Aqua Coat grain filler, then the dark stain. The test piece of wood turned out darker.  I think I sanded the bench more than the test piece.


I think I'll add one more coat of stain tonight, then spray the top coats on tomorrow.
I also almost finished the bridge…. One more plank to cut and nail to finish the entire bridge.  It was just getting a bit too cold this afternoon to spend more time outside (18F or so).   It isn't the nicest bridge, but it is a way back in the woods, and it is too cold in January to spend a lot of time making a nice looking bridge.  It did use up a bunch of the red oak I had sitting around (and some of the white oak).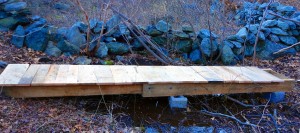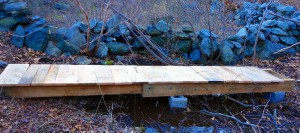 Just to be fair, I do have more unfinished projects hanging out there.  I have the crown molding for the living room sitting in the basement primed.  Hmmm… I probably have more – I just can't think of them right now (ok, there are yard projects, but it is January – so I won't count them).