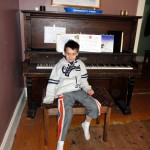 I finished the piano bench today.  The first project of the year is done.  I didn't actually start it this year, but I think it still counts.  The next woodworking project will be bookshelves for the study.  I'll wait to start until I finish the crown molding in the living room and the weather warms up enough I won't get frostbite in the workshop (it was a chilly 10 degrees F this am).
Over the past three days I stained the bench.  It is made from red oak, so to more closely match the piano, I added a dark stain.  I put 3 or 4 coats of stain on after the wood was prepared with grain filler.  I used a single coat of dewaxed shellac on top of the stain prior to the water-based top coat.  The top coat is two coats of Agualente (by ML Campbell) sprayed on.  The finish is a pre-catalyzed top coat, so I was able to recoat within 30 minutes (dry to the touch in 15 minutes).
Susanna and I had completed the fabric and batting on the top last night.  It was the first time either of us had put fabric on a bench seat, so it isn't the best job, but it turned out pretty nice.  I made 4 tabs to attach the top to the bench out of scrap oak.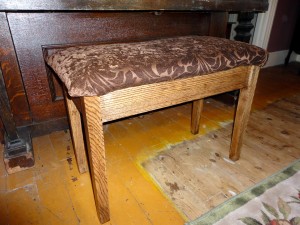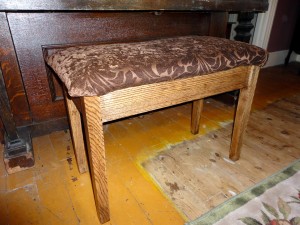 Overall, I'm pretty happy with the project.  The base was constructed with mortise and tenon joints, and the legs tapered.  I've moved up from pocket-hole screws.  I'm not thrilled about the stain – I didn't do the best job on the finish.  However I used a lighter setting on the spray gun, and I think the top coat came out better than on the boys shelves.
Lessons learned from this project: Make sure to count the height of the padding and fabric when figuring out the height of the bench.  Take the time to adjust the fence on the router table when cutting the mortises the first time (saves having to mill 4 new legs and re-cut the mortises).  If one wants a dark bench, use dark wood.
My personal critique of the project:  The mortise and tenon joints are okay – there are a couple of small gaps between the tenon shoulders and the legs.  I think tight joinery comes from practice practice practice.  There are definitely spots where the stain isn't even.  I should stain the project prior to assembly – the inside corners are difficult to stain evenly.  Spend a little more time doing the corners on the fabric top.