It seems in the workshop one either needs one or two clamps at a time for a project, or two shops worth of clamps for a glue-up.  Never anything in-between.  I've had to glue the face frame to the bookshelves in individual pieces because of my limited number of clamps.  However, the current arrangement of the workshop makes it nearly impossible to walk all the way around the case when it is on the saw horses.  So maybe it is good that I didn't have enough clamps to attempt a big glue-up at once.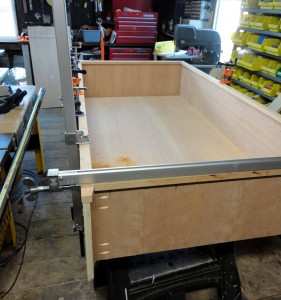 The project overall is coming along pretty quickly.  It is amazing how quick a project can be done when using sheet goods (can you say no milling of lumber).
On the down side, the top that I glued up isn't deep enough with the face frame attached.  Luckily, I have a spare piece of cherry milled and ready (hey, I do eventually learn – to mill up extra lumber) to cut and glue to the top to get it deep enough.  Now if I had more clamps to do the glue-up while the face frame dries.  I guess it doesn't matter – I can't get to the table saw with the case in it's current location.  And I don't want to move it with the glue drying…
I was able to finish two of the shelves (build, glue edging on, one coat of shellac, and 2-3 coats of spray varnish).  They turned out pretty nice.  Cherry is pretty light colored right after finishing.  A couple of months exposed to light and hopefully it will turn darker.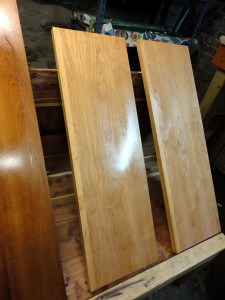 Writing in my blog – a good way to spend filling the time between the glue-up and when I can take the clamps off (and move the shelves).  I think it may be time to get more clamps.  Maybe a pack of 24-inch clamps from USA Clamp Company.  I have 5 clamps made by them, and I love them.  Plus they are way cheaper than the bar clamps purchased at most woodworking supply stores.