It is much quieter around the house with Susanna and Isabella out of town. My evenings are pretty open without having to juggle getting Isabella to go to bed. Tonight I decided that I would be happier if I did something other than watch a show after dinner, so I headed out to the workshop. I'm sure I'll get plenty of TV time over the next few weeks until Susanna and Isabella return. Yes my life is that exciting.
I decided that my next workshop project was to replace the rack I built to hold my chisels. Chisels stick in the current rack and can be difficult to get out. Plus it doesn't look very nice.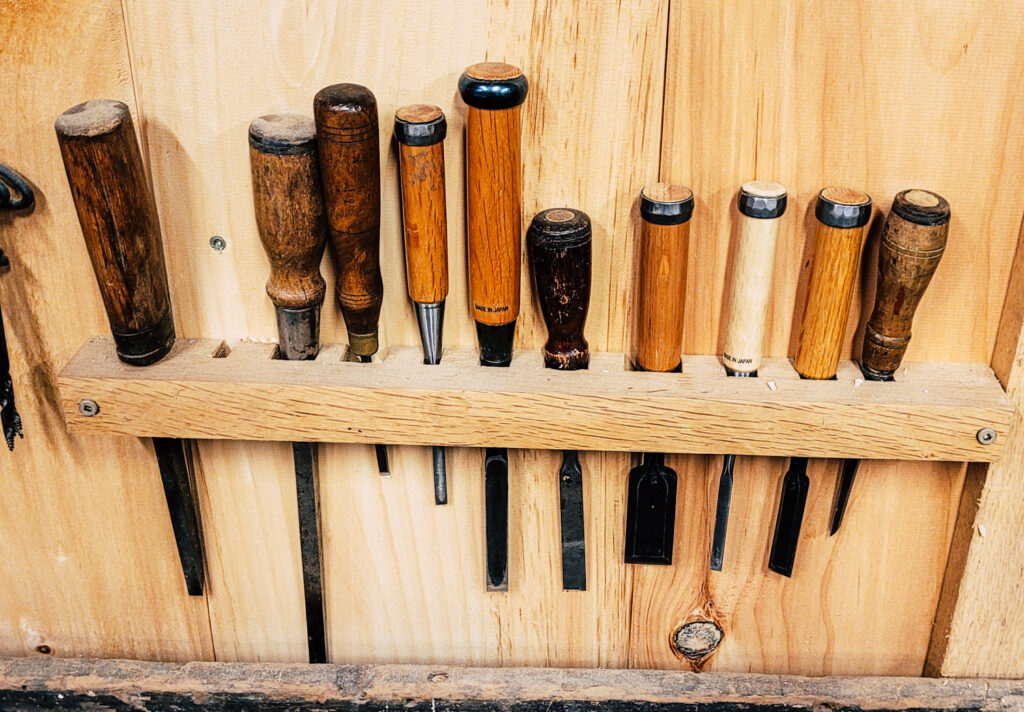 I headed up to my loft and pulled out a piece of cherry lumber. I was in no mood to dig out a piece of exotic lumber after the pain of working with Yellowheart. Cherry is very nice to work with. Not too hard and not too soft and darkens to a nice color with exposure to the sun.
I decided to do as much by hand as I could. I cut a 25″ piece off of the board, and ripped (by hand) a 2″ wide piece off that cutoff. I flattened one face by hand, but there was no way I was interested in milling to thickness by hand, so into the planer it went. I used a handplane and scraper to finish the surface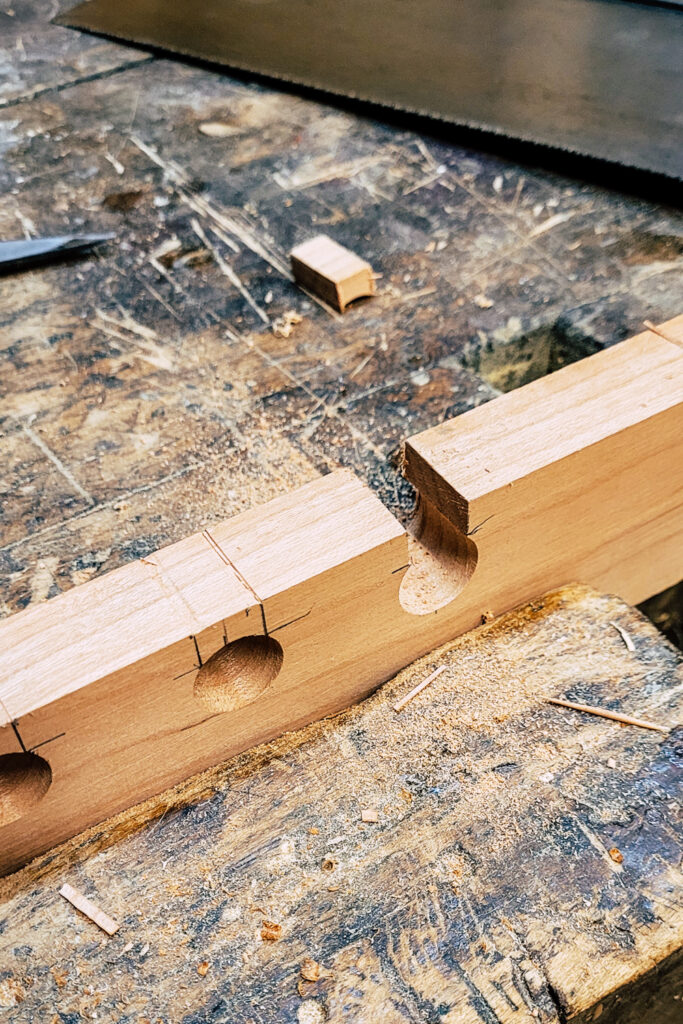 I edge jointed the board by hand. It felt nice to get the handplanes out again. I marked out and then drilled the holes using the drill press; I had already setup the drill press for a test piece and don't think digging out the bit and brace was really worth it tonight.. The slots were cut by hand and then shaped with a rasp.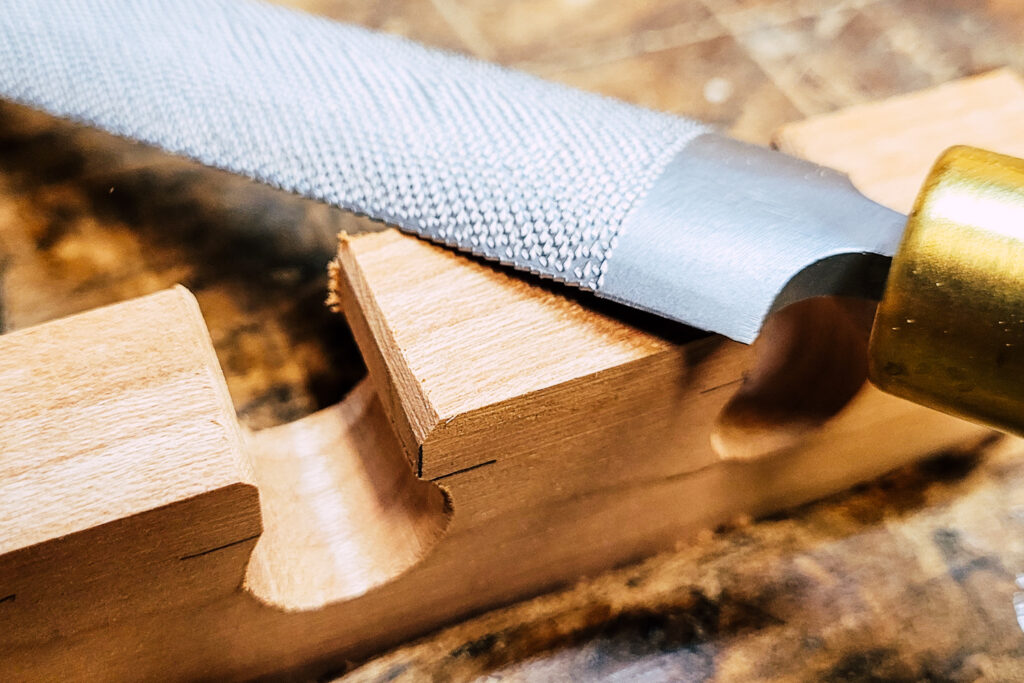 Finally I lightly sanded the entire piece and softened the edges, wiped it down with mineral spirits and put a few chisels in it for a test fit.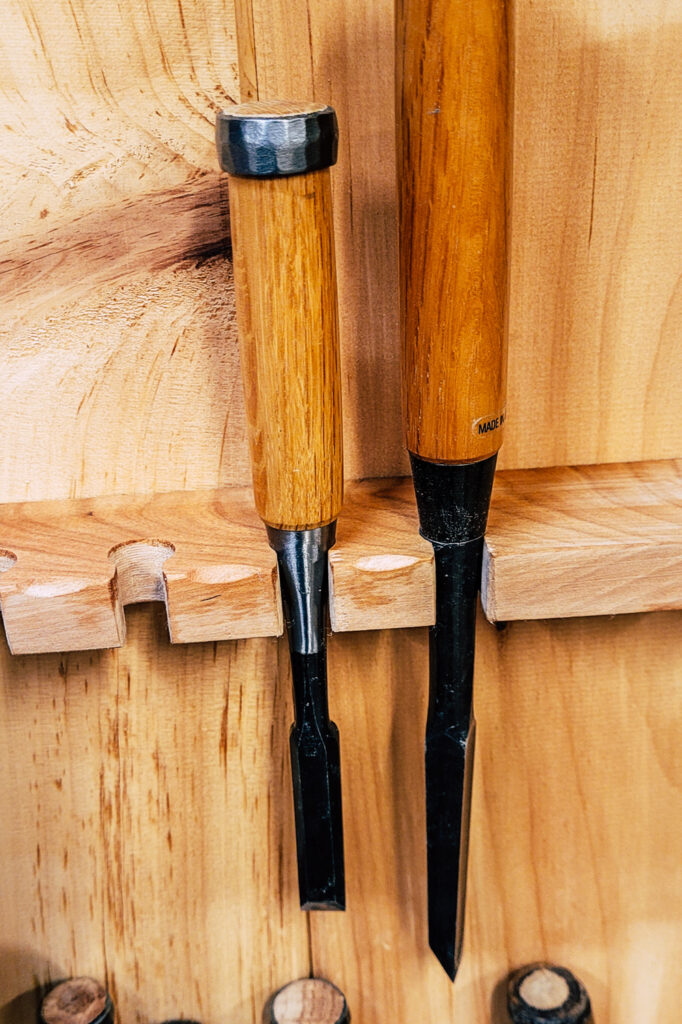 The next step is to mill a backing board with rabbet to allow me to mount the rack to the wall and apply some sort of finish to the project. I'll probably also put some sort of ledge below the chisels to keep hands from bumping into the sharp edge of the chisels. I also don't think my mortise chisel (far left on top picture) will fit in the holes I made, so I may have to modify or add another spot for that chisel. The final step will be to acquire more chisels. Maybe make the set match better, because matching tools are always important.
Now I just need to think of a project to build for the house.