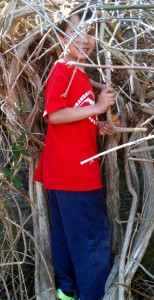 We have had a couple of very nice days here. The weather has been perfect – even warm enough in the evening to eat dinner on the patio (note to self – pay attention when grilling the veggie burgers – Will doesn't like his burger blackened – I was hoping to hide it under the cheese – there is no fooling Ben with his non-cheese burger).
Will and Ben spent the good part of the afternoon/evening yesterday building a fort/hiding spot in one of the bushes in the side yard. They started trimming back the bush so they could easily get in. Not quite a professional landscaping crew, but hey… they are free… who cares if the bushes have carved paths underneath them.
They aren't quite the best hiding places yet. But it should be pretty good once the leaves come in (and the thorn bushes start growing back).
I spent this afternoon building shelves for the workshop. The sides are built – now I need to pick up a couple of pieces of plywood to finish the shelves. Will spent the afternoon taking apart and reassembling a toy tank. According to his blog post, "It had a pain lot of screws…." Speaking of blog posts – both boys are keeping up on their postings – and it is pretty interesting to read about the day from their veiw.
Tomorrow is another day off of work. I have a long list of chores to finish before guests come over for dinner…. hopefully I'll actually finish some of them.