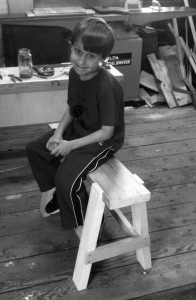 It felt good to get back into the workshop after over a week out of town for work.  I took a little break from my workshop renovation to build a saw bench with Ben. He helped me mill the top from a piece of lumber (maybe wormy chestnut – I'm not 100% sure, could be wormy pine) before I left.
Last night he helped me get the legs cut from a piece of cypress I had below the barn.  He helped me mark out and cut the dadoes for the legs, but then got a little bored with the project.
I did most of the remaining work.  The stretchers are red oak (I had it laying around), and I didn't make a bottom shelf.   I milled the lumber using the power jointer and planer.  However, I did nearly all the joinery by hand.  I can tell I need practice with the hand tools.
Ben helped me assemble the bench (glue and wood screws).   Tomorrow I'll take the old workbench I made for the boys and put it on the second floor, leaving only the saw bench.  I have a thick piece of ash set aside to make the top of Will's saw bench (when we get around to it).
One more project completed this year.  Now to the sharpening station (also spoken, "Kitchen table") and sharpen some of my very dull tools.