I am feeling good enough with the workshop renovation to start the next project (using the workshop).  I am not quite done on the workshop – I still need to fix the trim around the new window and add trim around the other windows on that wall.  I also need to finish cleaning out the cut out area for the stairs (and finish the railing on the top).  However, I'll treat those as separate projects and fit them in later this spring.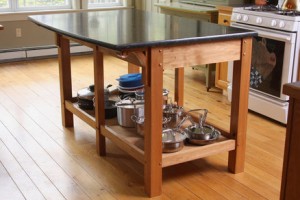 The next project will be an island for the kitchen.  I was inspired by the island built by Asa Christiana (of Fine Woodworking).  I plan to change the plans – his project is a little too large to fit into our kitchen.  I will make the island a little narrower and probably a little shorter (he didn't give dimensions).  The base will be made from white oak, not butternut and the top from ash vice soapstone.
I'll have to alter the design for more than the size.  Our kitchen feels narrow, so a longer, think island would be better.  I'll put an overhang on one end (short side) and not the long side, but I will try to do the carving details that he added, and may modify some of the details on the legs.  It will be my first attempt at carving – it will be a good challenge (and I do have the Fine Woodworking article to help me).
Will helped me pick out oak for the legs yesterday.  I'll try and get the legs milled this weekend.