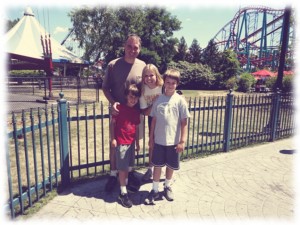 Yesterday we headed north to Massachusetts for a visit to Six Flags amusement park.  We spent the morning at the main park, and the afternoon at the water park.
It was a perfect way the split the day. We were able to do rides before the full heat of the day – and cool off in the water in the afternoon heat.  Of course half a day at each park doesn't give enough time to do all the rides…. but we have season passes so we will be returning several times this summer (starting with next week when Susanna's sister, Rebecka is visiting).
Ben was finally tall enough to go on some of the bigger coasters.  He still wasn't tall enough at 51″ to do the really big rides, but we were able to do more than last year.  The first ride we did when we entered the park was "Thunderbolt," and old wooden roller coaster.  Ben hadn't been on one that big yet, and the look on his face for the entire ride was of pure shock.  But he loved it, and wound up doing "Flashback" twice (he convinced Will to ride at the end of the day).  Flashback has a corkscrew and loop that you do first forwards, then backwards.  So in one ride, you are upside down 6 times.  They didn't make them like that when I was a kid.  Or maybe they did, and I was too chicken to ride on them.