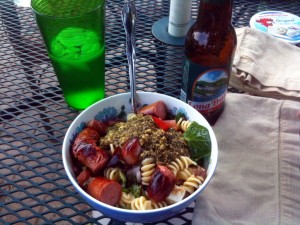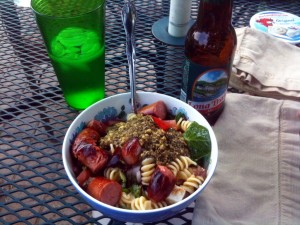 We enjoyed a nice evening on the patio. The weather hasn't been so hot the past two days. I have been off of work all week (okay, I'll be back for a part day on Thursday). Susanna's sister, Sofia, and her friend, Linda, were scheduled to arrive later in the evening.
We enjoyed a quiet day.  Or as the boys like to call it, "a boring day." But we all needed a quiet day.  That isn't to say that we sat around and did nothing all day (even though the boys like to think that).
Susanna got the house ready for her sister's arrival.  It is nice to be able to relax and not have to stress about being the one in charge.  I just did the chores assigned to me… no planning or stress required.  I figured it is nice to have only one person in charge of getting the house ready, and I'm happy for it to not be me.
I made some progress on the boat and trailer.  In the morning Will and I went to Mid-City Steel to get new cross beams for the trailer.  I finished painting one of the trailer wheels (black paint looks much better than rust).  I even decided to take a little break from the chores and got the lathe out to turn some toys for Ben.  I still don't know what I'm doing on the lathe, but it is fun to try to turn wood.
After dinner the boys and I watched the end of "Return of the King."  We started the movie a couple of weeks ago, and it seemed a good way to end a quiet day.