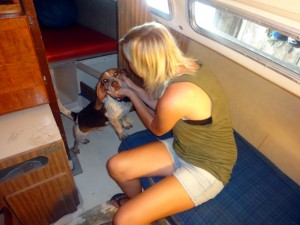 Susanna and I have been making progress on the sailboat this weekend. Yesterday, Susanna cut out the pattern for the new carpet, and cut the carpet to shape.  I was able to drill all the holes needed in the new steel square tubing for the trailer (and prep the steel for painting).
Today, after a nice relaxing morning enjoying coffee on the patio with Susanna, I spent time on the trailer. The second wheel was removed and I cleaned and painted the fist coat of POR-15 on it.  I also removed the remainder of the old/rusted square tubing.  I spent some time painting the new steel, and cleaning the rusty old steel.
Susanna finished preparing the floor for the carpet, and just before lunch we were able to install the new carpet.  What a big difference.  Now to get new cushions (or at least one new cushion – we have one that sort of fits).
Tonight, if it cools down enough that I feel like working in the workshop, I will start milling more trim for the boat.  I have to make pieces to cover the joint between the hull and the deck.  I also need to make trim to cover the edge of the carpet, and some more trim for around the hatches…