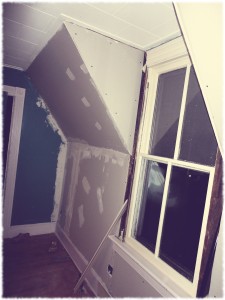 Today I finished (mostly) digging out from the 20+ inches of snow that dumped on us this weekend. The sun was out and the temperatures rose above freezing today. I have a couple of projects going on right now (the trick with ADHD is to finish projects before starting new ones – I'm not doing too bad so far this year):
Will's room repair: All the insulation and drywall is installed. I repaired, repainted, and rehung the window. I am in the process of smoothing the joints with drywall joint compound. I have a couple of more evenings of drywall work left. I also need to reinstall the window trim and hood up the new outlets.
Woodworking Projects: I have two unfinished projects in the workshop. Today I worked for a while on the kitchen island. I finished milling the final 4 pieces of lumber for the aprons and stretchers. All the mortises are cut, and most of the tenons are fit to the appropriate mortise. I glued up one side of the base frame (two legs – one long apron and one long stretcher) tonight. I am drawbore pinning the tenons. Hopefully the drawbore pins will strengthen the frame. I should have the island frame completed by the end of next weekend. Then I'll have to choose wood for the top (maybe ash or white oak or maple – not sure yet), mill, glue up, and finish the top.
I am also have to finish making the drunken cutting boards. I have the pieces milled and ready to go, but am focusing on the kitchen island right now.
It has been a little cold to want to spend lots of time in the workshop. Hopefully we will start seeing some warmer days over the next couple of weeks.
I have lots of projects waiting to be started; the room repair and the kitchen island are starting to get a little boring, but I will feel much better when they are finished. So, no starting new projects for me yet…
Tomorrow both Susanna and the boys have the day off from school. Most of the towns are still digging out from the storm, so nearly all the schools in the area  are closed tomorrow. Lots of my friends still don't have power or just got it back today; we were lucky enough to only lose power for an hour or so last night.