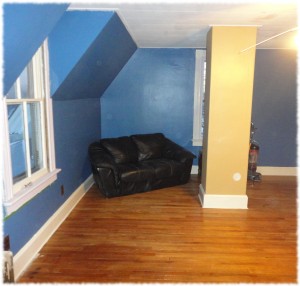 We are making progress on Will's bedroom renovation. Today I finished up most of the painting and am just working on the finishing touches to the room.
I am trying something new for the floor. The hardwood floor was in pretty rough shape, but I didn't have time to completely refinish the floor. So, I lightly sanded the surface (removing any stains that I could), and put a coat of dewaxed shellac down. The shellac dries in an hour or two. I then covered the shellac with a quick dry water-based floor finish from Home Depot. It certainly doesn't look like a refinished floor, but it looks much better than before. I'll have to see how well it holds up over time.
Tomorrow I have some touch-up painting to do, including the trim around the windows. Susanna will organize and sort the toys and clothes. Hopefully it will be a nice surprise to Will when he returns home on Monday afternoon.   I also need to finish the electrical work for the room, but that will wait until after next week (the outlets are in, but I need to run a wire to the attic to hook them up).