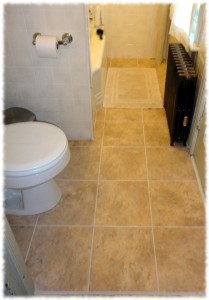 Susanna and I have made a good start on projects this year. We are focusing on smaller projects this winter.  So far, so good. It is nice to have projects that can be completed in a single weekend.
This weekend we finished a couple of smaller projects in the bathroom. I replaced the vinyl tiles with improved vinyl tiles. I had done most of the grouting last night, however a couple of the smaller pieces of tile didn't want to stick (near the tub).  I had to get construction adhesive this morning to finish the job. I had finished touching up the grout by lunch.
Susanna wanted to repaint the radiator. We picked up spray paint last night, and this morning she sprayed two coats on the radiator. It is a huge improvement.
The closet is under the stairs and was 5-6 feet deep. And pretty useless. It had two shelves way in the back, each were 24″ deep. I built a wall that was 24″ back from the door, and reused the wood from the old shelves to build 4 shelves that are only 12″ deep. We were able to take all the stuff that was in the closet, plus all the towels that we had kept above the toilet and put them in the new closet.
So, that is 3 small projects completed this weekend.  There are several small projects that we can still do in the bathroom, but it is working out well to only pick small projects for now.
Now to take a shower and go out for a beer.