London.  We made it.  Our journey took us on Air Canada from Boston to Toronto then to London.  It is nice to fly a non-US airline once in a while.  The accommodations on the aircraft were much nicer than the normal United aircraft – individual entertainment centers.
The flight across the pond was an overnight flight.  The trick is to try to get as much sleep as possible.  In the past, I had tried the Tylenol PM route.  It knocks me out, but I feel pretty groggy the entire next day.  This time I tried melatonin.    Susanna slept most of the flight with the melatonin.  I slept for the first 4 hours.  Not as long as with the Tylenol, but better than nothing.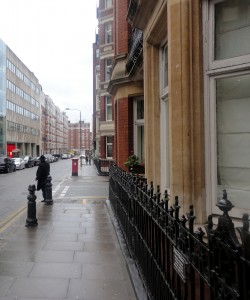 We arrived in early afternoon.  We couldn't check into the hotel until Susanna's parents arrived – so we dropped off the bags and walked around Kensington High Street.  We found a nice Italian place for lunch – though apparently it is a chain restaurant.
After Susanna's family arrived (Dan, Charlotte, sister Rebecka, and cousin Karolina) we checked in, unpacked and headed out to a nice dinner at another local Italian restaurant.  Since we had turned right on Kensington High Street today for lunch, we turned left and found the first place to eat.  We enjoyed a nice dinner and good conversation.  We did end the night discussing the upcoming election in the states, which was a decidedly unintelligent conversation.  Or more correctly, a conversation about the unintelligent.
Internet is a pain here.  No free internet in the hotel. I'm too cheap to pay for internet, so I'll post this tomorrow from a free Wi-Fi hotspot at a café up the road.  I'm also pretty tired tonight from the lack of sleep last night – so if this blog makes no sense, that is my excuse (plus I never proofread anything anyway – it is just too boring to try and get it right).
Tomorrow's plans are (though I'm pretty sure they have changed a bit) – in order:
Frukost
Kyrkbesök
Lunch
Hop on Hop off+buss
Afternoon Tea
Ev Spa
Kvällsmat
Of course the agenda is in Swedish (or it seems more like Swenglish).  Frukost is breakfast (food is important).  Lunch is lunch (I needed special help from Susanna with that one).  Kvällsmat is dinner.  Which covers the important events of the day.  I'm pretty sure "Afternoon Tea" is English and the second one has something to do with a church.
I'm meeting Rebecka before frukost tomorrow to go grab coffee and free internet.  Actually, I think it should be free "Internet" not "internet."  Not sure Susanna will be up in time to get coffee.  Of course I'll either amend this in the morning (or just add a note if she makes it).