Of course, I'm posting this on Day 3 early in the morning from Caffe Nero


After coffee, the we all sat down for a late breakfast at the hotel. The we headed off to find a hop-on hop-off bus tour of the city. We didn't have to walk far until we were accosted by a woman selling tickets for a bus company. But we did have to wait a while until the bus arrived. And, yes London is cold this time of year.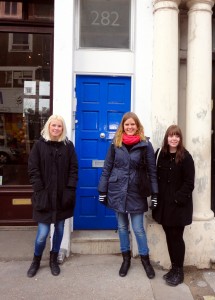 We took the bus to Notting Hill, and walked through the shopping district until Susanna, Rebecka and Karolina found what they believed was the blue door from the movie "Notting Hill." Susanna kept trying to get me to ask for directions – I said I didn't want to be the first guy in history to be looking for the blue door from that movie. I'm pretty sure Hugh Grant had someone to tell him where to go.
After that, back on the bus until we got to the Thames near Big Ben and the London Eye. We walked a bit, found lunch (after a try at a hotel, where the other patrons said they were waiting for over an hour for their food). Then to the London Eye for a trip up and down. Or rather around.
Then back to the hotel to warm up. We took the tube back from Westminster. We waited a while for the circus line to come, but then wound up having to take the green line (I can't remember what it is called right now). Only after we got to the next station did I read the sign that said the circus line was shut down for the weekend due to engineering work. We would have waited a very long time for the train if we weren't so impatient.
Dinner was at a local pub. I had a steak pie. The fine local cuisine. And beer. Tomorrow (or rather today, when I get to post this) will be to the British Museum and maybe some more walking around, with a show in the evening.